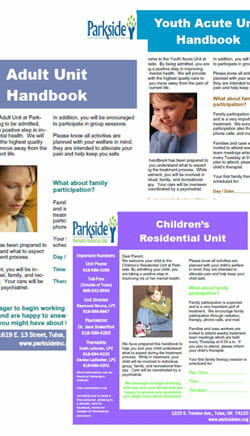 The handbooks have been prepared to help patients and their families understand what to expect during the treatment process. Please know all activities are planned with the patient's welfare in mind – they are intended to educate, develop skills and coping abilities, as well as improve general health and wellbeing.
You can also obtain printed copies of the handbooks in Assessment and Referral or on the hospital/residential units.
Parkside is accredited by The Joint Commission.
If you have concerns about the safety or quality of care provided at Parkside, please talk to Parkside's management at 918-586-4250. However, after sharing your concerns with Parkside, if you feel they are not properly addressed, you may report to The Joint Commission at 1-800-994-6610 or complaint@jointcommission.org.