Would you like to host a food drive or fundraiser for Parkside?  Please contact Fundraising Director Derek Frazier at dafrazier@parksideinc.org or at (918) 586-4251. We want to see your fundraising drive be a success!
Donations by Mail
If you would like to make a donation by mail, please send to:
Attn: Fundraising Director
Parkside Psychiatric Hospital & Clinic
1620 E. 12th St.
Tulsa, OK 74120
AmazonSmile
Shopping and donating have never been easier!
When you shop at smile.amazon.com, Amazon donates 0.5% of your eligible purchases – at no cost to you.
It's a win-win; plus, all donations from AmazonSmile support Parkside's By Your Side Patient Assistance Program.  Sign in using your existing Amazon account to get started by clicking the link here.
Direct Your Thrivent Choice Dollars to Parkside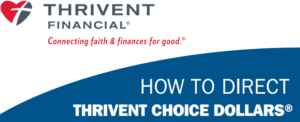 Here's how to direct your Thrivent Choice Dollars.
Online:
Visit Thrivent.com/Thrivent Choice
In the "Get Started" section on the right, click "Direct Thrivent Choice Dollars."
Log in by entering your user ID and password. (If you haven't yet registered on Thrivent.com, click "Register for Account Access.")
Choose Parkside, Inc. to Direct Choice Dollars.
Choose "Direct All" or enter a specific number, and then click "Direct Now."
By Phone:
Call 1-800-847-4836, and when prompted, say "Thrivent Choice."
Press 1 to direct Choice Dollars or 2 to hear Thrivent Choice Dollars Program Terms & Conditions.
A representative will work with you to direct Choice Dollars.